Tom Berger, Director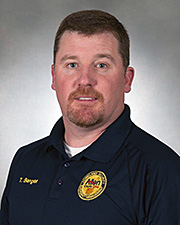 As director of the Allen County Office of Homeland Security and Emergency Management, Tom Berger oversees the county's preparedness and response to both man-made and natural disasters, oversees disaster recovery and mitigation efforts, serves as the Allen County Regional Bomb Squad Administrator and coordinates the county HAZMAT Team. Mr. Berger has served as the director of the Allen County Office of Homeland Security and Emergency Management since February 2015.
Prior to becoming director, Mr. Berger served as the Director of Emergency Response for the Allen County Combined Health District where he was responsible for emergency preparedness training, exercises, planning, volunteer management, and the Public Health Emergency Preparedness grant.
Mr. Berger served in the United States Army as an Infantryman from October 1994 until January of 1997. Mr. Berger served one deployment to Port Au Prince, Haiti in support of Operation Uphold Democracy in 1995. Mr. Berger was honorably discharged in January of 1997. 
Mr. Berger is a graduate of the University of Akron with a Bachelor of Science Degree in Emergency Management and an Associate's Degree in Criminal Justice.
Mr. Berger resides with his wife in American Township.
---
Steve Harvey, Assistant Director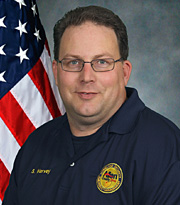 Stephen C. Harvey comes to emergency management after a 20-year career in telecommunication and information technology with Verizon and St. Rita's Medical Center. A CBRNE-rated hazardous materials technician, Steve serves as administrator for the Type I Allen County Regional Hazmat Team. Steve is the Communications Officer for the County, responsible for interoperable communications.
A volunteer firefighter with the American Township Fire Department, Steve can be found every August as a member of the electrician staff at the Allen County Fair.
Mr. Harvey resides with his wife in American Township.
---
David Webb, Deputy Director
David Webb joined the Allen County Office of Homeland Security and Emergency Management as Deputy Director in February of 2003.
Prior to joining the county staff, David worked for 27 years with the Lima Fire Department where he retired in 2001 after reaching the rank of Assistant Chief.
A lifelong Lima resident and graduate of Lima Senior High School, David and his wife Jenny have two children, Michael and Rachel.
---
Gene Davis, Deputy Director
Gene is a 55-year veteran of the fire service and former Perry Township Fire Chief. In addition to his duties with the Allen County Office of Homeland Security & Emergency Management, Gene continues to serve as Fire Investigator for Perry Township and as a volunteer firefighter with the Westminster Rural Fire Department.
---
Doug Litsey, Deputy Director
Doug is the former Fire Chief at Shawnee Township, and currently serves as Emergency Response Coordinator for the Husky Lima Refinery. With more than forty years in the fire service, Doug is our senior Deputy Director having served in that role with the Allen County EMA since 1988.
---
Anne Decker, Public Information Officer
Anne has more than 30-years of experience in journalism and public relations. She holds a Bachelor of Fine Arts degree in Broadcasting from the University of Cincinnati. A former broadcast news director and anchor in the Cincinnati and Lima markets, Anne currently manages an advertising agency serving more than 5,000 clients nationwide.
---
George Dunster, Public Information Officer
George is a journalism veteran with more than 50-years of experience. Former news director at WLIO-NBC Lima, George currently teaches journalism at the Wright State University Lake Campus in Celina.
---
Fred Vobbe, Communications Officer
Fred is a 35+ year veteran in broadcasting, and has won numerous awards in broadcast engineering and electronics. He is Vice President and Chief Operator for the NBC, ABC, CBS, and FOX affiliate television stations in Lima. Fred also serves as co-chair of the Lima-Allen County Emergency Alert System (EAS) District.
---