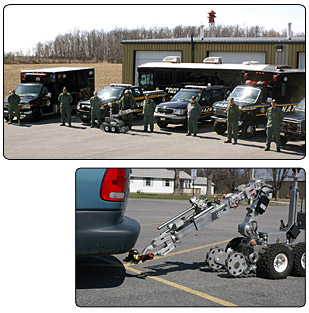 The original concept of a non-military bomb squad was thought up in the late 60s, into the early 70s as a response to the increase of radical groups within and threatening the United States. Many of those groups had begun the use of explosive devices as part of their protests. That need was addressed with the opening of the first "Civilian Bomb Squad School" in Huntsville, Alabama at Redstone Arsenal. That original school is now known as the FBI Hazardous Device School.
In 1971 the first local bomb squad was formed at the Lima Police Department. Through the years the squad assisted local, state and federal agencies on a variety of different types of calls. Calls for service have ranged from MacGyver type (soda bottle bombs), ammo pick-ups, fireworks, military and commercial explosives, improvised explosive devices, and presidential security details.
As time passed and the types of explosives increased in sophistication, the need for advancements in equipment and training to keep combat those items was needed. The days of a bomb technician going "hands on" to render suspect devices safe has passed. Today trained technicians use a variety of tools to safely do the job. Technicians now receive training in Weapons of Mass Destruction (WMD) to include chemical, biological, and radiological devices; hazardous duty robotics and other advanced techniques.
In 2008, the need for a truly regional bomb squad was realized. That need was met with squad's Command structure moving to the Allen County Sheriff's Office.  The squad is now comprised of members from the Allen County Sheriff's Office, the Lima Police Department and the Lima Fire Department. This move allowed the Squad to adequately cover twelve (12) counties in northwest Ohio. The move also allowed for the squad to be fully integrated with Allen County's HAZMAT Team.
Today, when the Bomb Squad responds, it has the capability of bringing not only highly trained advanced bomb technicians to the scene, but also specialized robotics technicians, explosive-detecting canines, and hazardous material technicians as a single unit, thus saving precious time while providing the maximum public safety response.
Allen County Regional Bomb Squad
Bomb Squad Administrator
Tom Berger
Bomb Squad Commander
Sgt. Roy Brock
Bomb Squad Technicians
Patrolman Greg Atkins

Firefighter Lt. Matt Parker

Firefighter Calvin Woodruff

Sgt. Matt Gill

– Tech In Training
Robotics Technician
Steve Harvey